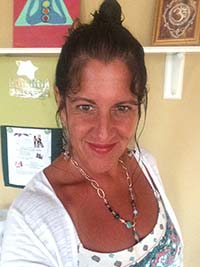 Reflexology, Spiritual-Energetic Healing, Muscular Therapy, Hypnosis/Hypnotherapy (Nationally Certified Consulting Hypnotist), Spiritual Hypnosis, Angel Message Readings, Ear Candling
Diane Jordan, a graduate and former faculty member of the Muscular Therapy Institute (now Cortiva Boston), and graduate of the New England Institute of Reflexology has been practicing Massage and Energy Healing for over 19 years.
Diane frequently works with individuals who are dealing with a variety of physical and emotional challenges. Every treatment is designed for that particular client based on their history of symptoms and what is presenting at the time of treatment. In her massage work, she prefers to focus on the true intent of Muscular Therapy – muscle specific massage designed to find and release tension-holding patterns in the body. Adding Reflexology to the treatment prior to the massage portion balances and relaxes the body so completely that deeper massage techniques are accepted by the muscles with greater ease.
Diane says, "Most of the treatments I give are a combination of Reflexology and Muscular Therapy. Each of these modalities work very well on their own, but I have found that blending the two is uniquely effective. Also I am a spiritual channel. This means I am channeling the energy of the client's own personal spiritual support into and through their body during the treatment. I call this powerful combination Spiritual-Energetic Healing and it is my own unique method. I am frequently thrilled and amazed by the profound healing which often results from this work."
Diane added Hypnosis to her list of healing modalities in early 2008 after graduating from the South Shore Hypnosis Center in Hingham, MA. She provides her own unique style of hypnotherapy for individuals and groups. Diane's Hypnotherapy sessions are an incredibly detail oriented, specific and effective method she has developed over the past 10 years. Her Hypnosis sessions arise from detail oriented communications between herself and client around client's specific goals and desires. The final result combines traditional hypnosis with aspects of Neurolinguistic (Re)Programming and Spiritual Hypnosis (with client approval). Diane is often able to help her Hypnosis clients achieve their desired results in only one session. Although she can work with any client goal, her specialty is in helping clients release anxiety reactions and symptoms.
"I have long been a client of Hypnosis myself and have always found it to be amazing and very effective. There is much that an individual can achieve through Hypnosis that is simply not possible any other way. This work is very gratifying because I see the client progress quickly to greater comfort, health and inner peace."