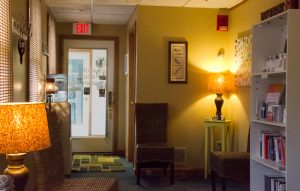 Read more detailed testimonials on your choice of session type or therapist' pages.
"Very nice professional establishment! 'Hidden Gem'"
– January 2019
"A very natural feeling place. Massage was exceptional. I'd definitely recommend!"
– September 23, 2019
"I had an awesome massage! I will definitely return!"
– August 29, 2018
"Expect a great massage by well qualified and friendly staff!!! My experience was awesome cant wait to go back."
– August 19, 2020
"Just relax, lay back and let them do their 'Body Works'…I feel like new this morning after having a massage last night….AWESOME!!!!"
– April 29, 2020
"The place was nice. I had never been and was very comfortable. massage was very good. she asked about any issues I had and was careful to work around them."
– February 10, 2021
"As always, and I started with you folks back in the 90's; the massage was excellent. Thank you for your presence in my town."
– January 2021
Raves for Diane Jordan
Therapeutic Massage
"One of the best massages I've ever had. Diane was amazing!"
– Sue F. December 12, 2020
"Thank you Diane and Natural Body Works. I'm looking forward to coming back, and also trying another service like hypnosis."
– Marie T – April 12, 2019
"I came into Diane's massage practice limping and in pain… looking for relief after a car accident. Her approach was both professional and "healing". I loved the fact that she focused not just on the injury site but on my whole body and my emotional well being. My leg has long since healed but I continue with Diane's massages because they help balance my soul!"
Past-Life Regression Hypnosis (zoom groups and individual) 
"This was amazing and I loved it!" ~ Sue T. Feb 2021
"My session with Diane helped put closure to issues no one else could. Everything fell into place and my anxiety calmed down" ~ Diane R. Feb. 2021
"My husband and I have worked with Diane Jordan in many capacities over the years. What started out in the late '90s as a massage in her home for tired overworked muscles, turned into a spiritual journey entering its third decade! Diane has a gift for connecting with people on an energy level and using her spiritual resources to assist her in treating or guiding her clients as needed. Having been clients for many years, we have been recipients of a variety of services she offers. We have been treated with massage, reflexology, reiki, hypnosis, past life regression, and participated in multiple gratitude and mantra practices.  The common thread of all that Diane has to offer is her spiritual connection and energy work that flows through everything she does.  We are grateful to know her!"  ~ Theresa A. Feb. 2021
"My relationship frustrations seemed to be never-ending. Now I know why and can begin to heal in real ways. I am working with Diane through other forms of hypnosis now. But the past life session began my healing journey and made it so much feel clear. I also was able to stop blaming myself and feeling such regret. It truly has been like a weight was lifted off of my heart" ~ Paula T. December 2020
"I was very skeptical; but this was utterly fascinating" ~ David N. May 2020
"I learned a lot about my relationship question and it was so easy and comforting. I loved connecting with my Angel" ~ Kathy D. July 2020
"I understand so much now, from just one past-life. Diane helped me put all the pieces together, after the hypnosis and it all made so much sense" ~ Susan T. Sept. 2020
Reflexology
"I had been trying to get pregnant for 2-1/2 years when I came to Natural Body Works. Several IUI and IVF cycles had made me feel run down physically and emotionally. I did a reflexology fertility treatment and a hypnosis treatment concentrating on fertility and low and behold the next IVF cycle was a success. I am now halfway through a healthy pregnancy and I feel great. There is no doubt in my mind that my time at Natural Body Works helped my body to prepare for a baby and I am eternally grateful to them for this most special gift."
– NBW client
"When my husband died two years ago my neighbor gave me a gift that keeps giving. It was a gift certificate for a wellness treatment with Diane. I had never had Reflexology and knew nothing about this method. My Doctor had told me I should think of going to a pain clinic for my severe neck pain and restricted movement. The treatments I have had with Diane have completely restored the mobility in my neck as well as released blocked passages throughout my body."
– Jill B.
"Hi, my name is Laurie. I have Juvenile Rheumatoid Arthritis – diagnosed at age six and have been living with chronic pain for a long time. I have had every medication from A-Z with little success. Some worked better than others and tolerance became an issue and it started taking more and more to get to the point of not feeling the pain. Finally I was at the highest amount of medication that was allowed by my doctors and the pain began to get worse. My doctors told me that I would need more surgery and I said "No". I began checking around for different solutions and reading up on Reflexology. I decided to give it a try and have had excellent results, no more nerve blocks, change of medications and a lot less of them. For the first time and years I have felt better, have had less pain and stiffness and continue on a monthly basis with my Reflexology treatments. I suggest that if you have not tried Reflexology – please do"
– Laurie Z.
Massage and Reflexology Combination
"For a long time I have had massages to alleviate the pain in my lower back and feet, and it does help temporarily. Diane suggested that I try Reflexology – so I did. It was the most peaceful and relaxing experience your body will ever have! It actually was very spiritual as well. It brought me to tears, releasing many emotions and stress that I was holding in my body as well as releasing all my pain. It is the most incredible body and mind experience I have ever had. I am telling everyone to try it!"
– Gail R.
"I have found Reflexology to be a wonderful adjunct to my regular massage therapy sessions. It is restful, gentle, low impact and has become an important aspect of my overall self-care and wellbeing."
– Dr. Donald Angell
"My daughter has been suffering from mild anxiety and IBS for a couple of years now. We have gone from one doctor to the next and sought help from a therapist. Each one of these professionals chose medication as the primary treatment, most of which came with awful side effects and no relief. Diane worked with her and on each visit discussed things that were going on in my daughter's body. Each session my energetic daughter would fall in to a deep sleep because the Reflexology would relax her so much. After just several sessions she would simply think about Reflexology if she was in stressful situation – and she would immediately relax. Reflexology has helped my daughter deal with her IBS, anxiety and other health issues more than any medicine has. I highly recommend it to anyone! Diane is a wonderful person who has been a blessing to us."
– Kim K.
Hypnosis
"Hypnosis with Diane was essential in helping me enjoy a vacation experience I was feeling anxious about. I have also been able to use what I gained from the hypnosis experience and apply to other situations as well.
Thanks Diane!!"
– TK
"I have explored Hypnosis with Diane to capture past-life experiences. This has been a fascinating journey through time for me and I have learned much through "The Masters".
– Jill B.
"Diane's healing gifts, wisdom and hypnosis have contributed to my world being a larger and more beautiful place. Thank you Diane!"
– Jill B.
"Hypnosis changed my life. I am free of my fear and feel strong and confident – finally!
– Donna H.