Gift Certificates Available!
Text Diane 617-650-7475 to purchase and ask about our package deals!
Natural Body Works Healing Center has been in business in the same location for over 27 years, and is the first and foremost established healing center on the South Shore.
At Natural Body Works we believe it is within every person's absolute capability to feel healthy, comfortable, balanced and peaceful – at all times!
To that end, we offer a wide variety of therapeutic healing services, including:
Whatever your body and soul are in need of, Natural Body Works' staff of dedicated healers have the skills and expertise you are looking for.
Our Massages: Natural Body Works massage therapists and energy work practitioners have been trained to see the "why" behind the symptoms of muscle tension and pain. patterns. When we find the pattern that creates the tension and pain we can help to eliminate or reduce the cause, so that these symptoms can stop reoccurring. Additionally we know that relaxation is the absolute key ingredient in releasing any and all discomfort. Relaxing and comforting to mind, body, energy, soul and incredibly effective in releasing muscle tension, pain and injury. You will find that your Massage Therapy at Natural Body Works is truly a holistic approach to your overall wellness.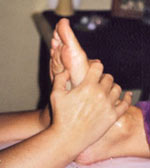 Our Communication: A great massage starts with great communication.
Natural Body Works is unique because of our many years of experience. We understand that every client has their own very specific needs. So instead of using on-line booking, as is so popular now, we chose to take the time to have a conversation with every client about their needs, prior to booking their massage.
Natural Body Works always strives to make sure you will see the massage therapist who is the best fit for you. Call us for your free consultation.
When you arrive for your appointment, your Natural Body Works practitioner will always take the time to speak with you to best assess your needs and establish the most beneficial approach to treatment. Of course, this assessment time is never taken away from your treatment time.
Click above links to find your perfect session.